The City Headlines
Ludhiana, September 16
A retired army officer from Ludhiana was shocked when he received an electricity bill of more than 9 lakh for his residence. Darshan Singh Dhelon, a resident of Ludhiana's Rajguru Nagar has received an electricity bill of Rs. 9,32,520.
According to the PSPCL website, the bill amount he has received is for 336 days (September 30, 2020 to September 1, 2021). However, he claims that he has last paid his electricity bill on May 12, 2021. He even has receipts of the bills he has paid after September 2020.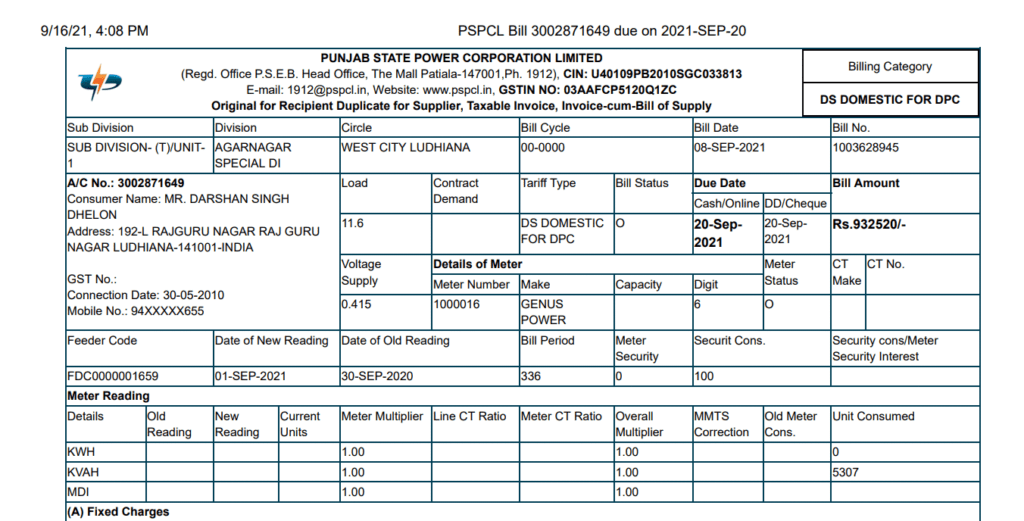 Darshan Singh Dhelon is a retired army officer. He said that only two members live in his house and they do not use electric appliances in excess. Further, he informed that he has never received such a huge amount for the electricity bill. "On an average, I am charged Rs. 2000-3000 for the electricity. However, this is a shocking incident for me," he said.
Even solar panels are installed at Darshan Singh's residence, which usually helps in saving electricity.
He also said that a year or two ago, he had received a power bill of Rs. 25,000. Then also, he had filed complaints with the concerned authorities.
This time also, he has filed complaints to PSPCL. However, he has not received any answers from the authorities. Moreover, Darshan Singh alleged that no one comes to his house from the department to check the meter readings. "I believe that I am being wronged by the authorities. If they do not solve this issue, I will move to the consumer court."