The City Headlines
Actor Kangana Ranaut had recently said that India got independence in the year 2014 and what we got in 1947 was "bheekh". To this, Kangana is being criticised all over the country.
Breaking her silence, Kangana Ranaut has said that she was ready to return her Padma Shri award if she was proven wrong for what she said.
Kangana took to Instagram and put forward her point. In her Instagram story, Kangana wrote that she had worked in a feature film of martyr Rani Lakshmi Bai and has extensively researched the first fight for freedom.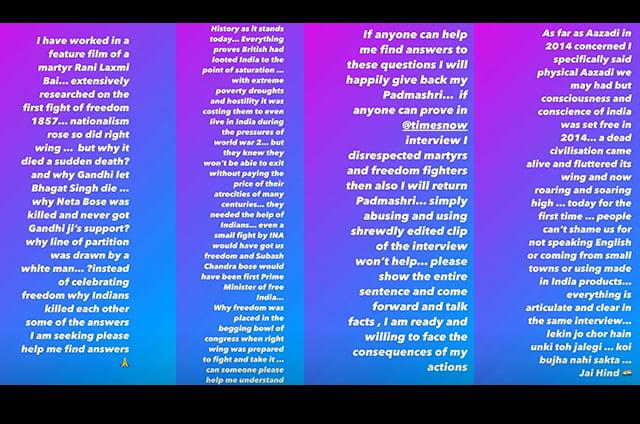 She asked several questions like, "Why Neta Bose was killed and never got Gandhi ji's support?", "Why line of partition was drawn by a white man", "Why freedom was placed in a begging bowl of congress when right-wing was prepared to fight and take it."
The actor also alleged that "abusing and using shrewdly edited clip of the interview won't help."
"As far as Aazadi in 2014 is concerned I specifically said physical Aazadi we may had but consciousness and concise of India was set free in 2014," she wrote.
Further, she wrote, "Today for the first time, people can't shame us for not speaking English or coming from small towns. Everything is articulate and clear in the same interview. Lekin jo chor hain unki to jalegi… koi bujha nahi sakta. (The guilty ones will feel the burn, nothing can be done.)"
Also read: "In 1947, India got "Bheekh", it got independence in 2014", says Kangana Ranaut