The City Headlines
Ludhiana, November 6
PPCC chief Navjot Singh Sidhu had demanded the resignation of the Punjab Advocate General APS Deol. Now, the veteran advocate has hit back at Navjot Sidhu saying that he was spreading "misinformation" to gain political advantage.
On November 6, he issued a brief press statement in which he said, "Mr. Navjot Singh Sidhu is obstructing the functioning of the Government and the Office of the Advocate General."
Further, he said, "His (Navjot Sidhu's) repeated utterances seek to derail the earnest efforts of the State to ensure justice in the "Drugs matter" and the "Sacrilege Cases"."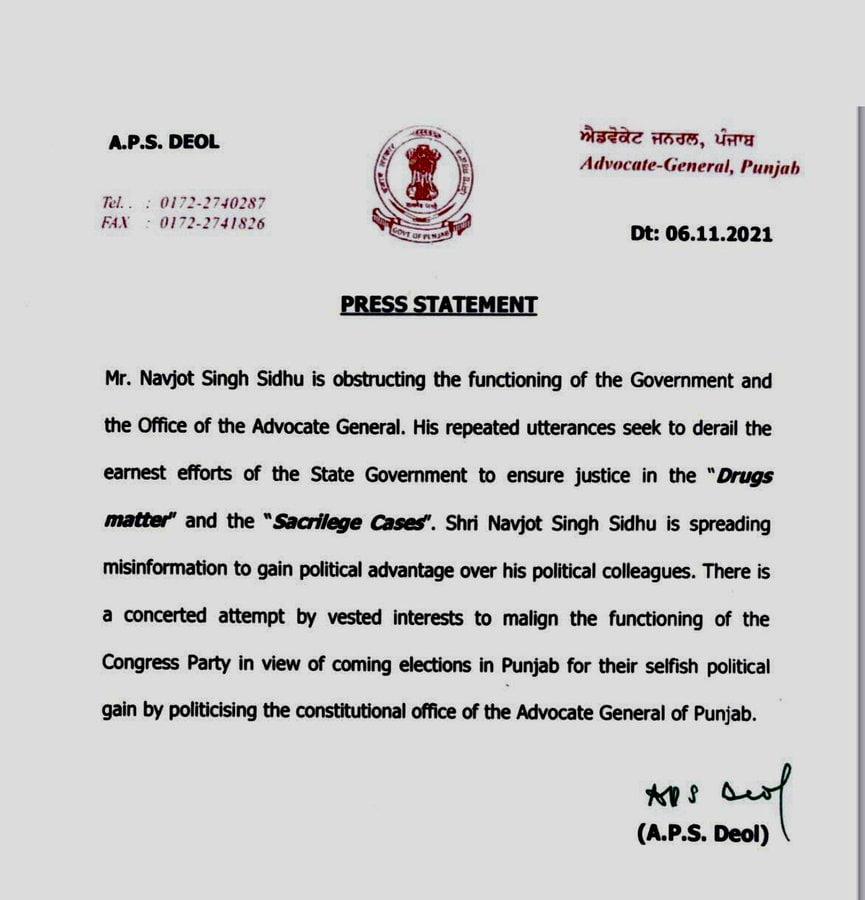 In September, APS Deol was appointed as the Advocate General Punjab after Atul Nanda resigned from the post following Amarinder Singh's resignation.
Navjot Singh Sidhu on Friday said that he had taken back his resignation from the PPCC chief's post. However, he would only take the charge after the appointment of the new Advocate General.
Navjot Singh Sidhu is clearly against the appointment of APS Deol as Advocate General of Punjab and IPS Sahota as Punjab DGP.
Sidhu had said, "How can a lawyer who got bail for Sumedh Saini be Advocate General of Punjab. A person like IPS Sahota, be the Director-General of Police?"
It is to be noted that Iqbal Singh Sahota was the head of SIT formed by the former Akali Government for the investigation of the Sacrilege cases.
Also read: Navjot Singh Sidhu resigns as Punjab Congress Chief
(Published by- Manav Bansal)