The City Headlines
Ludhiana, April 1
The National Investigation Agency has received an e-mail in which death threats have been given to Prime Minister Narendra Modi.
The sender of the mail wrote that he had received 20 kg RDX and at least 20 sleeper cells have been activated to assassinate Prime Minister Narendra Modi.
In the mail, it was written:
"I have more than 20 rdx, and i have planned 20 big attacks and all 20 rdx have been planted in major cities I wan to kill modi as fast as i can, And i will bombard this prime minister, he has killed my life, destroyed my life. I will not leave anyone, i will kill more than 20 million people."
Further, the sender wrote, "People are dying so they will die from my bombs, i have met with some terrorists, they are going to help with rdx, i am happy that i have got bombs very easily and now i will blast everywhere.   If you can stop me, then try to stop, but attacks are planned, i have planned it but 20 sleeper cells will be activated on 28th February and millions of people will be killed inshallah,"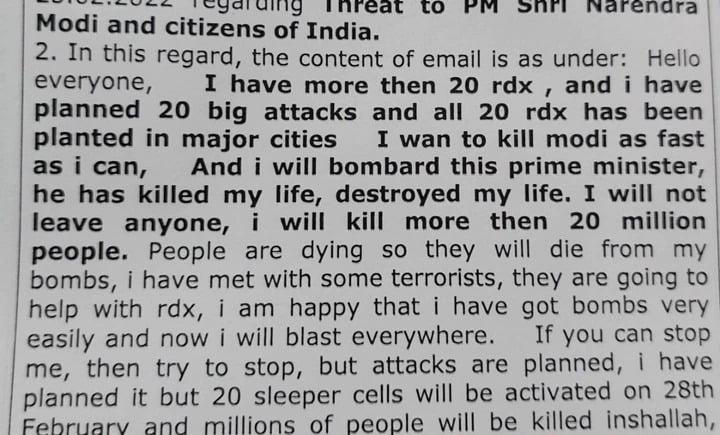 The Mumbai branch of the National Investigation Agency has received the mail and has sent it to other security agencies.